本帖最后由 Ray 于 2013-7-9 18:10 编辑


Visions Of A Sunset - trailer for Mr. Hollands Opus, though to an unrelated song, http://www.tudou.com/listplay/Yw7Ddol24WE/ce7C-_3XB3A.html


Beautiful Boy (《生命因你而动听》 Mr. Hollands Opus ,http://v.youku.com/v_show/id_XMzEzMzkzNTA4.html


Someone To Watch Over Me (《生命因你而动听》 插曲). http://v.youku.com/v_show/id_XMzEzNjI3MzA4.html




Mr. Holland's Opus 生命因你动听 (USA,1995) 又名: 霍兰先生的乐章 / 春风化雨1996 / 生命因你而动听 / 赫兰德教授的乐曲

预告片 trailer :http://www.tudou.com/listplay/Yw7Ddol24WE/ce7C-_3XB3A.html (to an unrelated song, though)
scenes: http://v.youku.com/v_show/id_XMzEzNjI3MzA4.html , http://v.youku.com/v_show/id_XMzEzMzkzNTA4.html
Quotes from "Mr. Holland's Opus" (from Wikiquote): http://en.wikiquote.org/wiki/Mr._Holland's_Opus

1964年的秋天,美国俄勒冈州。心怀远大理想的作曲家格兰·霍兰为了挣钱完成他的事业,在一所中学谋到了一份音乐教师的工作。他这么做完全是退而求其次的无奈之举,家庭生活的重担使得他不得不面对现实。他到学校上课的第一天,音乐基础级差的学生们便给了他一个难堪的下马威。他们在弹奏乐器时不但走调,甚至连大名鼎鼎的古典作曲家巴赫都没有听说过。霍兰的信心遭到了打击,女校长杰克布也多次向他提出善意的批评。在丈夫的工作遇到挫折时,从事摄影工作的妻子在一旁耐心地劝解和宽慰他;好友体育教师比尔·梅斯特也用自己从教以来的亲身经历,向霍兰证明教导学生需要无私的爱心和充分的时间。
  在霍兰的悉心培育下,原本对音乐一窍不通的白人学生格楚特·兰和黑人学生路易斯·鲁斯,分别学会了单簧管和大鼓这两样乐器。就在霍兰醉心于教学生活的时候,他的儿子降生了,谁知却是个先天性的失聪患儿。这一重创使霍兰对家庭的重心有所转移,消极彷徨中和漂亮的女学生露韦娜·摩根有了一段朦胧的恋情。妻子察觉到了丈夫的细微变化,但并没有点破。摩根去纽约深造后,霍兰便将全部的身心转移到了儿子和教学上,和妻子的关系也冰释前嫌。之后的30年间,霍兰不但提高了学生们的音乐素养,而且还用爱心、信任和理解赢得了大伙的尊敬和爱戴。在他退休前,深怀感激之情的历届学生们欢聚一堂,为老师开了一场盛大的欢送会,管弦乐队奏响了一支激昂雄壮的"美国交响曲"向霍兰表示了最崇高的敬意。 (from Douban, http://movie.douban.com/subject/1298880/ )

Mr. Holland's Opus is a 1995 American drama film presented as a video biography of the 30-year career of the eponymous lead character, Glenn Holland, a music teacher at the fictional John F. Kennedy High School in Portland, Oregon. It stars Richard Dreyfuss in the title role, and the cast includes Glenne Headly, Olympia Dukakis, William H. Macy and Jay Thomas.
Mr. Holland's Opus

PlotIn 1965, Glenn Holland (Richard Dreyfuss) is a talented musician and composer who has been relatively successful in the exhausting life of a professional musical performer. However, in an attempt to enjoy more free time with his young wife, Iris (Glenne Headly), and to enable him to compose a piece of orchestral music, the 30-year-old Holland accepts a teaching position.
Unfortunately for Glenn, he is soon forced to realize that his position as a music teacher makes him a marginalized figure in the faculty's hierarchy. He comes face to face with how seriously he is outranked by the high school's football coach, Bill (Jay Thomas), who ultimately becomes his best friend. Administrators, such as assistant principal Gene Wolters (William H. Macy), dislike him, while others, including principal Helen Jacobs (Olympia Dukakis), remind him that he should not teach just because of financial reasons. It is Mrs. Jacobs' scolding that helps Glenn turn a corner. He starts to use rock and roll as a way to help children understand classical music. Reluctantly, he begins to see his students as individuals and finds ways to help them excel.
When Iris becomes pregnant, Glenn uses the money saved up for his orchestrating to buy a house. Their son Cole is born sometime during the summer after Glenn's first year of teaching. Glenn is then assigned to be in charge of the school marching band. Bill helps him in exchange for allowing football player Louis Russ (Terrence Howard) to play the drums for academic credit.
The film marks the passing decades with newsreels about Vietnam—corresponding to the tragic combat death of Louis, and the death of John Lennon in 1980. The passage of time and the mysteries of personal growth are a constant underlying theme in this film.
Glenn's lack of quality time with Iris becomes problematic when their son, Cole, is diagnosed as deaf. Glenn reacts with hostility to the news that he can never teach the joys of music to his own child. Iris willingly learns American Sign Language to communicate with her son, but Glenn resists. This causes further estrangement within the family.
Through three decades, Glenn becomes closer to students at John F. Kennedy High School than he is with his own son. At one point in the film, he is briefly tempted by the shining talent of a young female student, who invites him to leave his stressful, unsatisfying life and run off to New York. When Glenn expresses to Cole the assumption that his son cannot understand what music means to him, Cole lashes out and reveals that he does appreciate music but needs his father to reach out to him. The incident encourages Glenn to find different ways for Cole and other deaf children understand music.
He addresses a series of challenges created by people who are either skeptical of—or hostile towards—the idea of musical excellence within the walls of a typical middle-class American high school. He inspires many students, but never has private time for himself or his family, forever delaying the composition of his own orchestral composition. Ultimately, he reaches an age when it is too late to realistically find financial backing or ever have it performed.
In 1995, the adversaries of the Kennedy High music program win a decisive institutional victory. Glenn's longtime adversary Gene Wolters, assigned school principal when Jacobs retired, works with the school board to eliminate music (along with the rest of the fine arts program) in the name of necessary budget cuts, thereby leading to Glenn's ignominious retirement at the age of 60. Glenn is a realist who realizes that his working life is over. He believes that his former students have mostly forgotten him.
On his final day as a teacher, the despairing Glenn is led to the school auditorium, where his professional life is surprisingly redeemed. Hearing that their beloved teacher is retiring, hundreds of his former pupils have secretly returned to the school to celebrate his life.
Glenn's orchestral piece, never before heard in public, has been put before the musicians by his wife and son. One of his most musically challenged students, Gertrude Lang (Alicia Witt as a child and Joanna Gleason as an adult), who has become governor of the state, sits-in with her clarinet. Gertrude and the other alumni ask the retiring teacher to serve as their conductor for the premiere performance of Mr. Holland's Opus ("The American Symphony"). A proud Iris and Cole look on, appreciating the affection and respect that Glenn receives.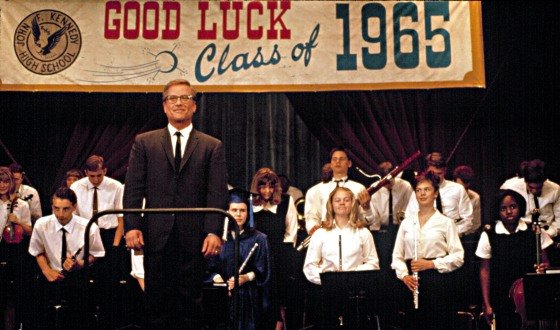 Quotes from "Mr. Holland's Opus" (from http://en.wikiquote.org/wiki/Mr._Holland's_Opus ) :

Glenn Holland
Playing music is supposed to be fun. It's about heart, it's about feelings, moving people, and something beautiful, and it's not about notes on a page. I can teach you notes on a page, I can't teach you that other stuff.

The day they cut the football budget in this state, that will be the end of Western Civilization as we know it!

It's almost funny. I got dragged into this gig kicking and screaming, and now it's the only thing I want to do.

You work for 30 years because you think that what you do makes a difference, you think it matters to people, but then you wake up one morning and find out, well no, you've made a little error there, you're expendable. I should be laughing.


Principal Jacobs
A teacher has two jobs; fill young minds with knowledge, yes, but more important, give those minds a compass so that that knowledge doesn't go to waste.


Others
Iris Holland: Why is everyone else's child more important than yours?

Gertrude Lang: [as an adult] Mr. Holland had a profound influence on my life and on a lot of lives I know. But I have a feeling that he considers a great part of his own life misspent. Rumor had it he was always working on this symphony of his. And this was going to make him famous, rich, probably both. But Mr. Holland isn't rich and he isn't famous, at least not outside of our little town. So it might be easy for him to think himself a failure. But he would be wrong, because I think that he's achieved a success far beyond riches and fame. Look around you. There is not a life in this room that you have not touched, and each of us is a better person because of you. We are your symphony Mr. Holland. We are the melodies and the notes of your opus. We are the music of your life.


DialogueIris Holland: When you were in high school, did you ever wonder if your teachers went home and got it on at night? Glenn Holland: When I was in high school, my teachers were all priests and nuns. Iris Holland: I had such a crush on Mr. Griffith, he could've taken me home any time. Glenn Holland: Really? Iris Holland: Mhm. Glenn Holland: And who was this Mr. Griffith? Iris Holland: Oh, he was my music teacher.
---
Glenn Holland: Let me ask you a question. When you look in the mirror, what do you like best about yourself? Gertrude Lang: My hair. Glenn Holland: Why? Gertrude Lang: Well, my father always says that it reminds him of the sunset. Glenn Holland: Play the sunset. Close your eyes. One, two, three, four.
---
[Glenn and Iris are discussing the possibility of sending Cole to a special school] Glenn Holland: The doctor said that gestures meant... Iris Holland: It's way more than gestures. Glenn Holland: That gestures meant that Cole would never learn how to lip read or to talk! Iris Holland: He can barely talk now, he can't say two or three words! Glenn Holland: The guy is a specialist, Iris! Iris Holland: Ohhh, he's a specialist who thinks that deaf people are retarded and he is not retarded, he is... [Cole is screaming, asking for something and Iris doesn't know what it is] Iris Holland: Cole! Glenn Holland: What does he...? Give him what he wants! Iris Holland: I don't know what he wants, I don't understand what he's trying to say. Don't you get it? You walk to school every day with all these children who are normal. I can't talk to my son! I don't know what he wants or what he thinks or what he feels. I can't tell him that I love him, I can't tell him who I am. I want to talk to my son! I don't care what it costs, I don't care what the stupid doctor says it's right or wrong. I want to talk to my son!
---
Vice Principal Wolters: Have you been to any of the football games this season, Mr. Holland? Glenn Holland: I can't say that I have, no. Vice Principal Wolters: Well, Mrs. Jacobs and I feel that there's something missing. Glenn Holland: Touchdowns?
---
Glenn Holland: Which instrument do you think you'd like to play? Louis Russ: Well, I was kinda thinkin' like... How about electric guitar? Glenn Holland: Well, this is a marching band. The extension cord will kill us.
---
Glenn Holland: [playing Beethoven's Seventh Symphony for his class] He couldn't hear. Of all people. Not a thing. And because Beethoven couldn't hear, the thought of him conducting, let alone composing, was pathetic to most people. And so to answer them, he composed and conducted the seventh symphony. Just try to imagine; Beethoven standing on that podium, holding his baton, his hands waving gracefully through the air. The orchestra in his mind is playing perfectly, and the orchestra in front of him, trying desperately just to keep up. There is a story, that in order to write his music, Beethoven literally sawed the legs off of his piano, so that the body would lay flat on the floor. And he would lie down next the piano with his ear pressed to the floor, and he would hit the keys with his fingers in order to hear his music through the vibrations of the floor. Student: Mister Holland? If he couldn't hear, how would he even know what the notes were? Like, if he never heard a "C", how did he know that's what he wanted to play? Glenn Holland: [pause] Well... Beethoven wasn't born deaf.
---
Vice Principal Wolters: I care about these kids just as much as you do. And if I'm forced to choose between Mozart and reading and writing and long division, I choose long division. Glenn Holland: Well, I guess you can cut the arts as much as you want, Gene. Sooner or later, these kids aren't going to have anything to read or write about.
---
Iris Holland: [translating Cole's signing for Glenn] Why do you assume that John Lennon's death would mean nothing to me? Do you think I'm stupid? I know who John Lennon is. Glenn Holland: [Glenn turns to Iris] I never said that he... Iris Holland: [Iris continues translating] I can't read your lips if you don't look at me. Glenn Holland: [Glenn looks back at Cole] I never said you were stupid. Iris Holland: You must think so. If you think I don't know who The Beatles are or any music at all. You think I don't care about what it is you do or what you love? You're my father. I know what music is. You could help me to know it better, but - no. You care more about teaching other people than you do about me. Glenn Holland: [Cole makes a final gesture, Iris doesn't translate it] Iris... What does this mean? Iris Holland: That means "asshole".
---
Glenn Holland: Well, congratulations, Gene. You've been looking for a way to get rid of me for 30 years, and they finally gave you an excuse. Vice Principal Wolters: You know, I'm not as popular as you. I'm not anybody's favorite anything. Glenn Holland: That's because you're the enemy, Gene. You just don't know it.
Taglines
We are your symphony Mr. Holland. We are the melodies and the notes of your opus. We are the music of your life.

It's not about the direction you take. It's about the direction you give.

Of all the lives he changed, the one that changed the most was his own.

Life is what happens to you while you're busy making other plans.